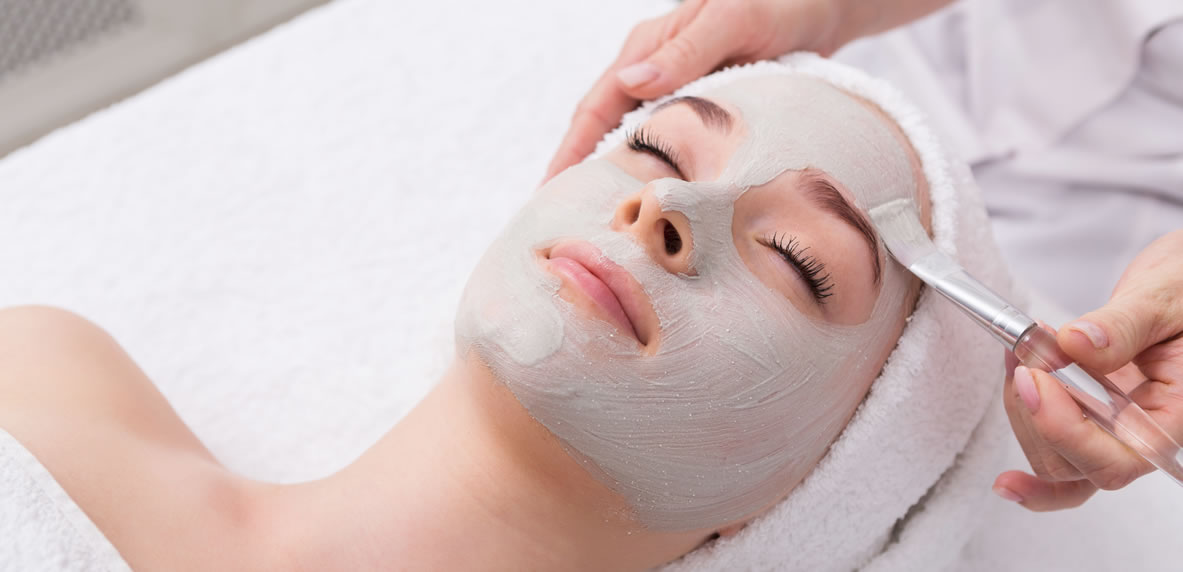 Facials are relaxing, fully customized, multi-step skin treatments which improve skins general health and address specific concerns and conditions. Even people with great skin can benefit from facials. Many environmental factors and exposures can damage the skin, reducing your skin's elasticity and vibrancy. The effects of sun exposure, poor diet, pollution, stress and other variables which age and stress skin can be treated and undone with regular facials.
While each facial is fine tuned for your individual needs, facials benefit all skin types. Many products used in facials are often rich in nutrients that boost collagen production, exfoliate dead skin cells, reduce the appearance of wrinkles, cleanse pores, and hydrate the skin.
During a facial, your esthetician will help you relax while you learn about and truly understand your skin. Facials may be brightening, extra hydrating, soothing, anti-aging, anti-acne, or deep cleansing depending on your skin type. See below to learn more about the different types of facial services provided at The Bové Spa and Wellness.
Facial Types and Benefits at Bové Spa
Signature Chocolate & Champagne Facial – $125
Recommended for all skin types, especially  beneficial for Acneic & Rosacea. Indulge your senses with the aroma of sweet chocolate as the natural anti-oxidants and nourishing elements of raw cocoa powder add protection and boost healing for any skin type.  The gentle exfoliation of natural papaya and pineapple enzymes will effectively polish and prepare the skin for the revitalizing Oxygen Rx treatment.  Relax as the effervescence of pure oxygen boosts circulation, stimulates cell turnover and leaves the complexion hydrated and revitalized.
Oxygen Rx™ Facial – $125
Recommended for all skin types, especially beneficial for Oily, Acneic & Rosacea. A controlled amount of oxygen is generated at optional levels on the skin to provide maximum benefits and help to replace the ruddy-look associated with acne, rosacea and telangiectasia, with brighter skin. 
This treatment is extremely nourishing and beneficial for all skin types. The procedure is quick, easy and pleasant. The end result is clear and luminous skin with a feeling of firmness. This amazing treatment can be repeated as often as once a week (oxygen only) and once every third week when including the enzyme treatment.  
Clarifying Facial – $125
Recommended for all skin types, especially beneficial for Oily, Irritated & Acneic. This treatment is designed to effectively remove the keratin buildup to reduce bacteria and acne lesion.  Finish with an anti-inflammatory Green Tea Mask that will deliver powerful healing antioxidants while simultaneously nourishing and hydrating the skin.  The skin will be left feeling invigorated and clear.
Vitamin Infusion Facial –$110
Recommended for all skin types, especially beneficial for Dry, Aging, Sun Damaged, Hyper-pigmentation. Slow down the signs of aging by infusing the skin with potent and nourishing essential vitamins including Vitamin B, C, & E.  This luxury facial will not only address current antioxidant and nourishment depletion, but also protect the skin from future damage.
Firming Peptide Facial –$110
Recommended for all skin types, especially beneficial for Dry, Aging, UV Damaged. Renew and revitalize the skin with potent anti-aging peptides, powerful antioxidants, stem cells and botanicals.  Infuse the skin with intelligent ingredients that will stimulate new cell growth, repair and rejuvenate all skin types leaving a firm luminous glow.
Teen Facial – $75
Recommended for all skin types, especially beneficial for Acneic. Give young skin the support it needs with a facial that is designed to address the hormonal challenges of this age group. This facial includes a deep pore cleanse, an enzyme exfoliation to clarify acneic skin, followed by a soothing Green Tea Mask to pull out impurities and brighten the surface.
Express 30 Minute Facial – $65
Recommended for all skin types, especially beneficial for Dry. The express facial provides the essentials for those on the go.  This effective treatment includes a deep pore cleanse, exfoliation, a custom Circadia mask and is completed with a firming eye serum, peptide moisturizer and sun protection.
Gentleman's Facial – $95
Recommended for all skin types, especially beneficial for Shaving Irritation. Using the power of peptides, stem cells and exfoliators, this treatment effectively addresses the skin care concerns of men.  Invigorate the skin with an effective exfoliation, extractions, powerful anti-aging ingredients and a hydrating mask.  This treatment will revitalize, refresh and improve the health and appearance of men's skin.
Add on to any facial:
Reiki – $20
Dermaplanning – $40
Microdermabrasion – $40
Lymphatic Drainage Face & Neck Massage – $20
Advanced Facial Types at Bové
… and more…
Can't decide on a facial type or don't know what's best for your skin?
Consultations with our estheticians are free and all of our facials can always be fully customized at the time of your service. 
Facial FAQs
CAN I GET A FACIAL IF I'M PREGNANT? Absolutely. After filling out an intake form, please make sure to emphasize this to our estheticians. At the Bové spa we pride ourselves in providing the best service for each person in every walk of life. Most of our treatments are 100% safe for expecting mothers, though we do not reccomend certain products to people who are pregnant or trying to become pregnant.
SHOULD I REMOVE MY MAKEUP? You can remove your makeup before the facial, before coming to the spa, or we can do it for you while you relax.
CAN I WEAR MAKEUP AFTER MY FACIAL? We recommend letting your skin breathe and absorb your treatment after your facial. However, makeup will not harm your facial if you do decide to wear it afterwards.
CAN I GET A FACIAL BEFORE A BIG EVENT? It's a great idea to get a gentle facial to refresh your skin before an event, however we suggest having your treatment 1-2 days before the event just in case of sensitivities to products.
DO MEN GET FACIALS? Absolutely! Men often have just as many skin care concerns as women and often suffer irritation and dryness due to shaving and harsh aftershaves. It's important for men to detoxify, exfoliate, and moisturize too!