Welcome to the Bové Spa and Wellness, Somers
The Bové Spa and Wellness is a beautiful facility nestled in the middle of the peaceful Somers historic district.
The minute you walk through our doors you will be captivated by the tranquility of our environment.
By offering a combination of medical, aesthetic, and holistic treatments The Bové Spa and Wellness is sure to have the option that's right for you.
With hormone optimization, facials, cryotherapy, weight loss, fillers, injectables, and red light therapy, your customized treatment plan awaits to support your health and happiness.
Can't decide? Have questions? Our medical staff and estheticians will help you discuss your options and find the perfect treatment.
Call us today to discuss your goals let us help you become the best version of yourself.
Download our Brochure Here
Or Call Today (914) 276-2200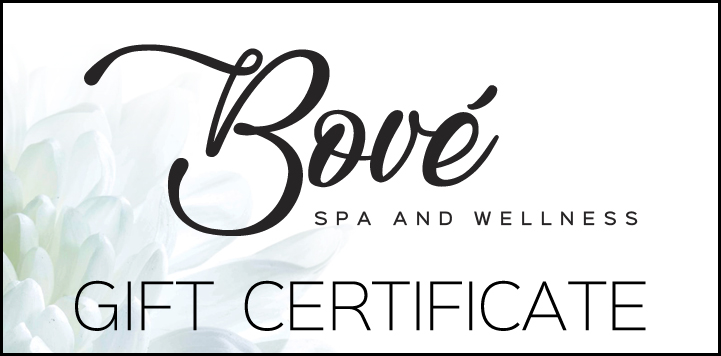 Make Someone Else's Day a Spa Day!
Click on the image to buy a card for a friend, relative, loved one or that special occasion. A spa day is always a unique and special gift. Purchase a gift card online or call us at 914-276-2200
The Mission and Story of Bové Spa & Wellness
Our mission is to help you become your best self. We care for you as a whole person and individualize each treatment to provide a unique experience according to your specific needs. We strive to build relationships with our clients, making them part of our Bové family. By providing facials, cryotherapy, hormone optimization, advanced facial treatments and guided meditation classes, we have everything you need to create the best you.
Co-founder Karen Merritt is an insurance agent, currently the owner of The Merritt Agency in Somers. A few years ago, she was diagnosed with breast cancer, but successfully battled it to remission with the support of her daughter Abigail and her life partner John. Karen's experiences with cancer inspired her to take on new projects. John, Karen, and Abigail decided to dedicate this new chapter of life to making a difference in others health and wellness. This family-run business offers treatments that will enhance your life with physiological effects and boost your self-esteem. Bové Spa & Wellness is committed to being your 2nd home when you need comfort.
What Our Clients Say About Bové Spa
I have severe acne and scarring and the esthetician here explained to me the cause of it, gave me an amazing facial, and I even left the spa able to purchase the products used on my skin for at home regimen. My skin has gotten 90% clearer in just a few weeks.
I cannot recommend this spa enough. Beautiful location as well as amazing staff!
Bove is a beautiful spa, with friendly talented staff. I have only had the pleasure of getting a facial and Botox from them at this time and would highly recommend both services. I cannot wait to go back and try their other services!