Monday Closed
Tuesday 10am to 6pm
Wednesday 10am to 6pm
Thursday 10am to 7pm
Friday 10am to 6pm
Saturday 10am to 4pm
Sunday Closed
LATER APPOINTMENTS AVAILABLE BY REQUEST
The NEW Miracle Body Wrap 
A "Next Level" Experience that supports your immune response, detoxification, improves circulation and more! This treatment even reduces the appearance of cellulite and bloat; it truly sculpts your body!
The treatment entails: Coconut oil and
powdered magnesium
are mixed and applied to your skin to nourish and moisturize you from the outside to the inside, followed by a thermal wrap and 20 minute sauna to soak it all in. Finish with a 30 or 60 minute fascia massage.
This treatment will leave you feeling baby soft, detoxified and relaxed for a great nights sleep.
1 Hour Wrap incl massage: $200 
90 Minute Wrap incl massage: $225 
P5 MASSAGE AND WRAP WITH ALGAE JAM
An ideal whole body slimming treatment, which combines a tonic massage, and our original algae wrap, to refine curves, reshape and tone the silhouette. The proof is in the results after a course of 4 sessions: – 11%* less belly fat and – 8%* less thigh fat.
*Clinical scoring on 22 women after four P5 Treatments with P5 LOTION application twice daily for 15 days.
A highly active gel wrap is applied and then massaged in order to firm the skin, tighten tissues and combat skin slackening.
A refreshing gel is then generously applied to the whole body before it is wrapped to assist with the diffusion of marine ingredients. A total body massage provides a pleasant, refreshing finale to this experience.  Results: The body is firmed and toned.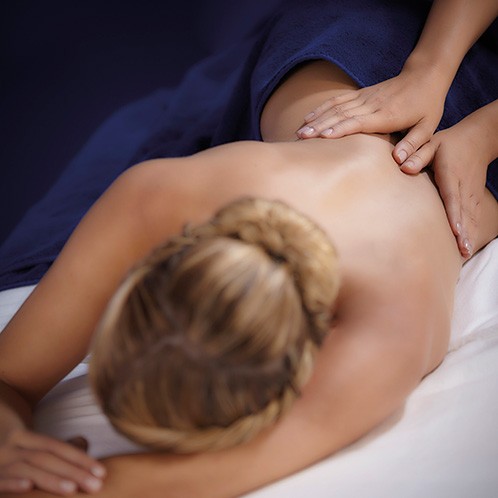 MARINE BODY WRAP AND MASSAGE
A choice of 2 high-performance marine body wraps combined with a complete body massage to help eliminate toxins or re-invigorate skin tissues.
This treatment is based on the renowned esthetical technique of heat wrapping. Gentle exfoliation using a marine sponge at the start of the treatment stimulates the epidermis. The selected marine wrap is then applied to the whole body and is activated by a gentle warmth diffused by a heated blanket. A total body massage at the end of the "cocoon" treatment leaves you beautifully relaxed and rehydrated.
Results: Depending on which wrap has been used, the body is visibly purified or invigorated.
INVIGORATING BALNEO TREATMENT
Oligomer Invigorating Bath Treatment.  The art of modern thalassotherapy in a Japanese soaking tub filled with marine ingredients, followed by a complete massage to remineralize the body. Immersed in a tub rich in marine ingredients, you can lie back and let them go to work on remineralizing your body. The deep tub will ensure even more effective results. A complete body massage gently concludes this enjoyable aquatic experience.  Results: Your body appears more revived.
RELAXING MASSAGE WITH SEA BOLUSES
An ultra-relaxing treatment with its gentle warmth and fragrant scent of lavender flowers.
Through soft effleurage strokes, targeted pressure, and stretching, this Thai-inspired massage eliminates areas of tension one by one using the gentle heat of warmed linen bundles. A sea salt crystal exfoliating scrub restores skin's natural softness. Gradually, your mind surrenders to an overall sense of well-being and long-lasting replenishment.